Back to all posts
Posted on
Sheldon Coates 2020-2021 School Re-Entry Plan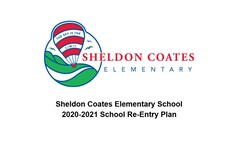 Dear Sheldon Coates Elementary School Community,

In preparation for the 2020-2021 school year, we are implementing health measures and safety protocols designed to mitigate the risk of COVID-19 transmission while ensuring that student learning remains a top priority. Our re-entry plan outlines the steps we are taking to keep staff, students, and visitors safe at school, including:
Staff and students conducting daily health checks prior to coming to school
Stay-at-home protocols for those who are feeling unwell
Strict hand hygiene protocols
Enhanced cleaning and disinfecting in schools and on buses
Encouraging physical distancing where possible
Creating cohorts of students
Mandatory masks for all staff and visitors
Encouraging K-3 students who are physically, psychologically, and developmentally able to wear a mask
Limiting entry to the building to those who are required to be in the school or have an appointment
Parents and guardians are key partners in implementing safety protocols and health measures. If you have not already done so, please review the ​Parents' Guide: 2020-21 School Year. Start talking to your children now to help prepare them for their first day of school.

We know that students may move between in-person and online learning throughout the year as the situation around COVID-19 continues to evolve. To that end, our teachers are planning for instruction with a view to making such transitions as smooth as possible.

We have missed our students tremendously, and we are excited to welcome them back to Sheldon Coates in September. Until then, enjoy these final days of the summer break!


Respectfully,

Arthur Cota, M.Ed.
Principal
Sheldon Coates Elementary School